De vestigingen van Bloemenshop 't Station in Echt en Susteren zijn dinsdag dicht. Moederbedrijf Anguflor is dinsdag door de rechtbank Noord-Holland failliet verklaard. Het bedrijf heeft bloemenshops op verschillende stations in het zuiden van ons land.
Alle vestigingen dinsdag dicht
Ook de andere vestigingen in Sittard, Roermond, Venlo, Helmond en Weert blijven vandaag dicht. Op Facebook meldde het personeel van de Weerter vestiging gisteravond dat ze vandaag 'wegens omstandigheden' gesloten zijn. Volgens nieuwssite Weertdegekste.nl kregen mensen in die zaak gisteravond zelf van het personeel te horen dat het hoofdbedrijf faillissement zou hebben aangevraagd. Wat daar de precieze reden van is, is nog niet bekend. Volgens De Limburger was de eigenaar dinsdagmiddag niet bereikbaar.
Doorstart onzeker
Ook op de Facebookpagina's van de bloemenshops in Echt en Susteren staat een mededeling dat de locaties vandaag gesloten blijven. Veel mensen laten weten het jammer te vinden als de winkels sluiten en laten een steunbetuiging achter voor het personeel. Het is nog onbekend of er een doorstart komt.
De aankondiging op Facebook: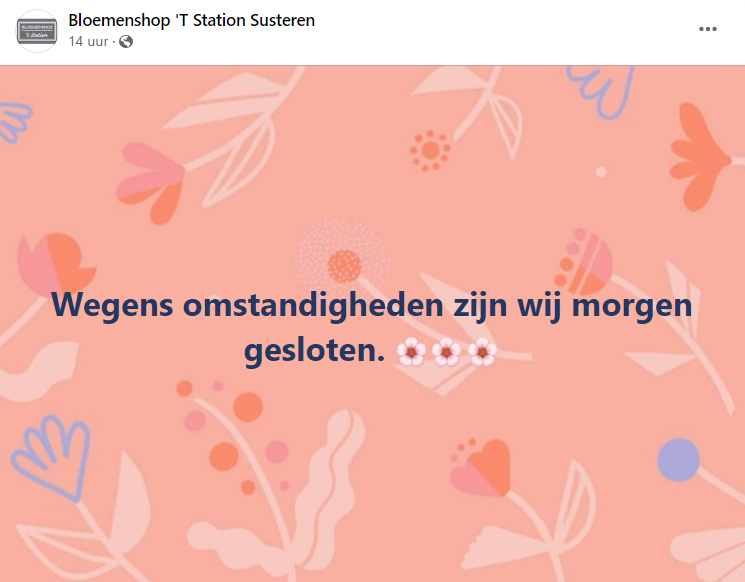 Andere winkel ook weg uit Susteren
Vorige week donderdag werd ook bekend dat de winkel Veur Eederein tegenover de PLUS in Susteren haar deuren sluit. In het gebouw huisde vroeger de Expert. Zaterdag 26 juni is de laatste dag dat de winkel open is. Veur Eederein schonk ook koffie of thee en mensen en fungeerde daarmee ook als ontmoetingsplek in het dorp.
Foto: Google Streetview