Het gaat om de dorpen Roosteren, Illikhoven, Visserweert, Aasterberg en Kokkelert. Die plaatsen werden ook bij de wateroverlast van de Maas in de jaren '90 al geëvacueerd.
'Voorbereiden op evacuatie'
"Als u in bovengenoemde dorpen woont, loopt u het risico dat uw woning onder water komt te staan", schrijft de gemeente Echt-Susteren. "Zorg er daarom voor uw eigen veiligheid voor dat u vanavond, vannacht en een groot deel van morgen verblijft in een ander onderkomen bij vrienden of familie. Het dringende advies is duidelijk: bereid u voor op evacuatie."
'Veel inwoners luisteren'
Burgemeester Jos Hessels heeft met een aantal inwoners van de dorpen gesproken en merkt dat inwoners naar het advies luisteren om de nacht elders door te brengen. "Mensen met hulpbehoevende ouders kwamen die al ophalen. Jongere mensen zeggen de cijfers van vanavond af te wachten", vertelt Hessels op L1 Radio. Hij baseert het evacuatie-advies op cijfers over de verwachte waterstijging van Rijkswaterstaat.
De gemeente geeft de volgende tips:
Schakel gas en elektriciteit uit
Vermijd zoveel mogelijk contact met water en ondergelopen straten
Let goed op openliggende putten of ronddrijvende putdeksels
Help kwetsbare buren en ouderen met evacueren
Het bedreigde gebied: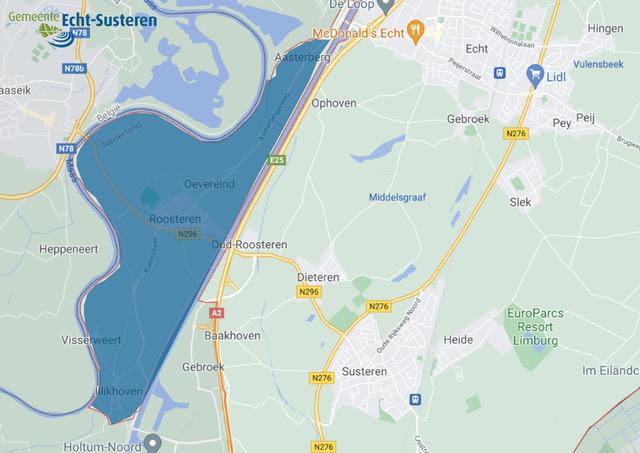 Dringend advies
Donderdagavond om 20:30 uur wordt bekeken of het advies wordt omgezet in een officieel bevel tot evacuatie en voor welke plaatsen dat dan geldt. De gemeente heeft bussen en sporthallen stand-by staan mocht dat nodig zijn. Mensen die hulp nodig hebben bij het evacueren of een verblijfplaats nodig hebben, kunnen de hele avond en nacht met de gemeente bellen op 0475-478 478.
Beelden van het hoogwater bij Roosteren en Kokkelert van vanochtend:
Foto: De Maas bij Visserweert (Marcel Boreas)