Je wilt meer weten over AV (audiovisuele techniek), je hoort geregeld dat je vet doet editten of het lijkt je leuk om een jeugd of juist ouderen programma te maken. Op een podium staan tijdens een live event als presentator of radio-jock. Allemaal deze dingen kun je leren bij de omroep. Sol 2 is een semi regionale omroep waar je in je toekomst kunt investeren. Jongens als Tim op het Broek (Kink FM), Duncan Vrosch ( NPO2) of verslaggever GertJan Verstegen ( RTLnieuws) zijn gewoon enkele jongen die ooit klein begonnen en opgeleid werden door geroutineerde AV en oud Radio Jocks.
En leeftijd maakt vandaag de dag niet meer uit. Of je nu 16 bent ( met toestemming van je ouders) of 65 jaar ( toestemming mag maar is niet nodig), we zoeken, en vinden een plaatsje voor je. Van hieruit kun je met een degelijke vooropleiding klaargestoomd worden voor het grotere werk. VISTA Heerlen heeft heel veel opleidingen voor deze sector.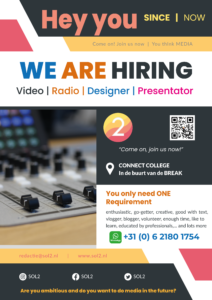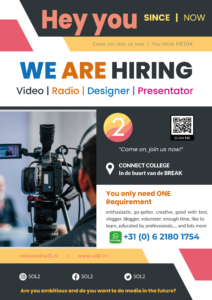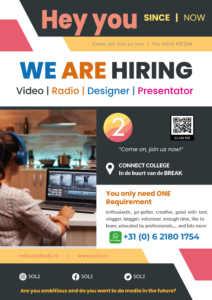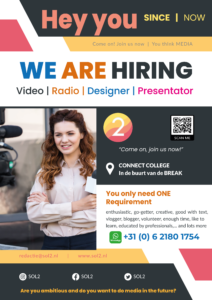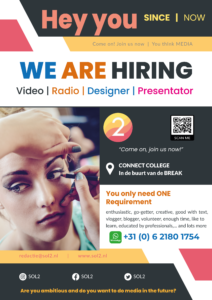 Maar als je een leuke hobby zoekt, misschien wil leren Bloggen of vloggen? Wij hebben al met dit bijltje gehakt en kennen de valkuilen, daar laten wij je niet inlopen. Kortom, voor iedereen. En je kunt van alles doen, camerawerk, schuiven tijdens een liveshow, radio programma's maken, muziek programmeur, editor ( audio en video), journalistiek, make up,.. je kunt het niet voorstellen maar het zit in dit pakket.
Ooit TV regiewerk gedaan? Live of semi live? PTZ operator? Heel veel spannende dingen vindt je bij ons. Kom maar eens kijken.
Neem gerust contact op met onze hoofdredacteur, app of bel met 06 2180 1754 of stuur een mail naar info@sol2.nl